MākuSafe Selected as ACORD Innovation Finalist
June 26, 2019
MākuSafe is proud to be a finalist at the ACORD InsurTech Innovation Challenge on Wednesday, June 26th. MākuSafe is invited to pitch at the Innovation Challenge General session at ACORD Connect 2019, on October 30th in Boston.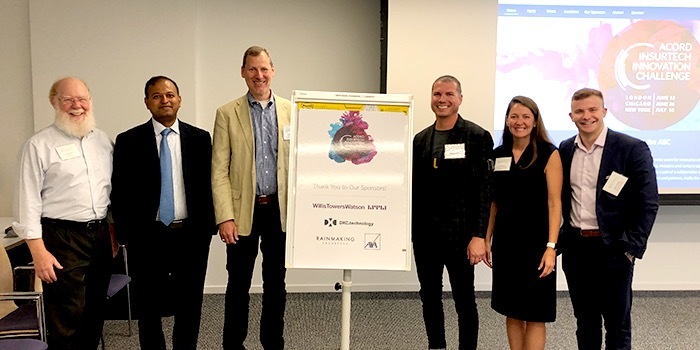 Gabriel Glynn representing MākuSafe at the Semi-final pitch competition in Chicago.

"ABOUT THE CHALLENGE
The ACORD InsurTech Innovation Challenge is the world's premier event for innovation in insurance technology, and continues to achieve a longer reach and greater impact every year. Its mission is to seek out, promote, and nurture sustainable technological innovation for the insurance industry, benefiting insurers, distribution channel stakeholders, and/or vendor partners.
The Challenge brings together insurance innovators across all lines of business, investors and venture capital partners, technology startups, and industry mentors and experts. It is an opportunity to be part of a collaborative effort to transform the way the insurance industry does business, interacts with new policyholders and partners, crafts the next-gen customer experience, and ensures a prosperous future.
Through an open submission process leading to rounds of live-pitch competition, the ACORD InsurTech Innovation Challenge has already attracted hundreds of ideas for consideration, and rewarded the most innovative ideas with thousands of dollars' worth of benefits, promotional tools, industry exposure, and networking opportunities."

About MākuSafe
MākuSafe was formed by a powerful team of software, hardware and data engineers in an effort to prove that workplaces around the globe can be made safer by gathering environmental data around workers WHILE they work. Using analytics and machine learning technology we can turn that data into predictors so that accidents can be stopped before they happen.